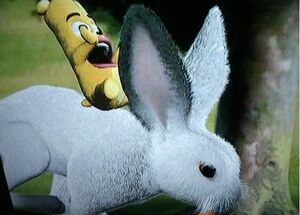 Rabbit Steed is a rabbit seen in the Random! Cartoons short
Solomon Fix. Solomon rides on Rabbit Steed to get to Ned. Rabbit Steed sounds like a horse.
Rabbit Steed is realistic, and is mostly white. His ears are white on one side and black on the other. Rabbit Steed has black feet. He has brown eyes and black pupils. His tail is white, like most of him.
Appearances
Edit
Rabbit Steed has only appeared in one Random! Cartoons short. That short is:
Rabbit Steed did not appear in many scenes of Solomon Fix.
Ad blocker interference detected!
Wikia is a free-to-use site that makes money from advertising. We have a modified experience for viewers using ad blockers

Wikia is not accessible if you've made further modifications. Remove the custom ad blocker rule(s) and the page will load as expected.