The seventh episode of Random! Cartoons.
The Bravest WarriorsEdit
Created by Pendleton Ward
Directed by Pendleton Ward
The Bravest Warriors embark on a difficult mission to save a planet from a Tickle Monster.
Voice CastEdit
| | |
| --- | --- |
| Voice Actors: | Character(s): |
| Charlie Schlatter | Chris Kirkman |
| Tara Strong | Beth Tezuka, New Alien |
| Dan Finnerty | Wallo |
| Rob Paulsen | Danny Vasquez, Tickle Monster |
| Polly Lou Livingston | Slippy Napkins |
| Noah Nelson | Professor Brain Dog 7 |
Production notes / ChangesEdit
The Bravest Warriors was made after Pen Ward's Adventure Time short was wrapped up. He wanted to do a concept that took place in a futuristic setting. Later, the series was in development for it's own project. Originally, it was planned to be for TV for Conan O'Brien. But development was held for years until Frederator decided to turn the concept into it's first web-series on YouTube, green-lighting it for their new channel, Cartoon Hangover, without Conan's involvement. Since Pendleton Ward was pre-occupied with Adventure Time, he handled the direction to close friend Breehn Burns. The actors have been replaced (with Beth's previous actress Tara Strong voicing the new character Plum), designs have been updated, new characters and concepts were made and the show's demographic have changed for a more mature audience. The series began airing on November 8, 2012.
Polly Lou Livingston later voiced Tree Trunks in Pen Ward's Adventure Time, and Tara Strong later voiced Plum in Cartoon Hangover's Bravest Warriors.
The Dangerous Duck BrothersEdit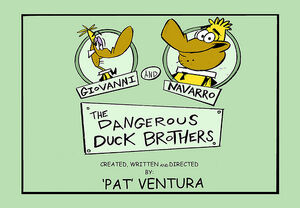 Created by Pat Ventura
Directed by Pat Ventura
Brothers Giovanni and Navarro come from a history of great daredevils. To live up to their family lineage, the two decide to build a rocket to break the speed barrier record.
Voice CastEdit
| | |
| --- | --- |
| Voice Actors: | Character(s): |
| Chuck McCann | Navarro |
| Jim MacGeorge | Giovanni |
| Jeff Bennett | Dog |
Production notes / ChangesEdit
The short was made by Pat Ventura, animator who made several shorts for many of Fred Seibert's collaborated showcases (e.g. "George & Junior" and "Slegehammer O'Possum" for What-a-Cartoon!, Jamal the Funny Frog for Oh Yeah!). He pitched this idea to Frederator and they gave him the green-light.
The animation style is similar to that of 1960s cartoons.
Sparkles and GloomEdit
→ Main article: Sparkles and Gloom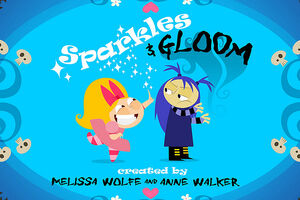 Created by Anne Walker and Melissa Wolfe
Directed by Anne Walker
Sparkles and Gloom Charming, the twin daughters of an evil witch and Prince Charming, have always had their fair share of sibling rivalry. But when a particularly bad fight ends up switching their respective magic powers (On the day of the school talent show, no less!) they'll have to work together to win the talent show grand prize...that is, if they don't end up zapping each other to bits first.
Voice CastEdit
| | |
| --- | --- |
| Voice Actors: | Character(s): |
| Kari Wahlgren | Sparkles, Mom, Leprechaun |
| Jessica DiCicco | Gloom, Fuzzy Animal |
| Annie Mumolo | Pixie, Little Prince, Munchie |
| Kevin Michael Richardson | Dad, Announcer, Zit, Applause Fish |
Production notes / ChangesEdit
This concept was the brainchild of animator Anne Walker Farrell, who was also in charge of Mind the Kitty, and Frederator producer Melissa Wolfe. Wolfe wrote the script, while Anne Walker story-boarded and directed the animation. The animation was done at Renegade Animation in California, which Anne was a former employee at.
The Geevil School song is written by Melissa Wolfe.
Sparkles and Gloom's parents' car horn plays "La Cucaracha".