The fourth episode of Random! Cartoons.
Hero HeightsEdit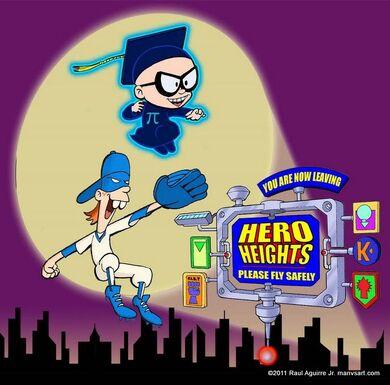 Created by Raul Aguirre Jr. and Bill Ho
Directed by Raul Aguirre Jr. and Robert Alvarez
After ruining a tea party the neighborhood girls were having, Smart Alec and Strike Out make an oath to hate girls forever. Things change when a beautiful new girl named Olympia moves into Hero Heights. The boys become instant rivals for her attention until she uses her powers to bring a world of pain to anyone who dares to mess with girls.
Voice CastEdit
| | |
| --- | --- |
| Voice Actors: | Character(s): |
| Jessica DiCiccio | Smart Alec, Plasma-Tot |
| Annie Mumolo | Strikeout |
| Hynden Walch | Olympia, Ms. Chic |
| Becky Thyre | Electrisha |
| Karen Malina White | Mindy 500 |
| Raul Aguirre Jr. | Razorklaw |
Production notes / ChangesEdit
Hero Heights was the brain-child of animators Raul Aguirre Jr. and Bill Ho. Both Bill Ho and Raul storyboarded it and did character designs. Raul however wrote the script, co-directed it and voice directed it. He also played the character Razorklaw in the short. The short was also co-directed by Robert Alvarez.
Raul Aguirre Jr. made a Flash animation promo for his Hero Heights short prepared to air on Nicktoons Network which is still on YouTube.
Yaki & YumiEdit
Created by Aliki Theofilopolous
Directed by Jun Falkenstein
Hungry, lazy bat Yaki has no money for food, and finds the quickest way to eat is to get a job at an arcade concession stand. When his yoga practicing dragon friend, Yumi, sees there's a dance contest in the same arcade, Yaki's competitive side kicks in.
Voice CastEdit
| | |
| --- | --- |
| Voice Actors: | Character(s): |
| Candi Milo | Yumi, Octopus Dude |
| Andre Sogliuzzo | Yaki, Contest Judge |
| Aliki Theofilopolous | Sweet Little Girl, Fortune Fish, Kid #1 |
Production notes / ChangesEdit
Aliki Theofilopolous pitched two concepts to Frederator Studios with Yaki & Yumi being one of them, which got the green-light. The short was directed by Jun Falkenstein, who was working on her own short "Kyle + Rosemary". Aliki Theofilopolous did several voices in the short such as the sweet little girl and the fortune fish.
Aliki Theofilopolous did Yaki's demo voice for the storyboard phase before she got Andre to do the voice.
Gary GuitarEdit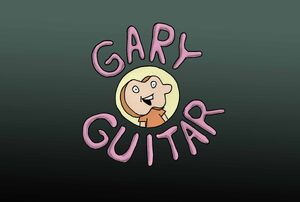 Created by Bill Plympton
Directed by Bill Plympton
Gary Guitar and Miss Vera Violin are planning a picnic! Will the rain, snow, crows, ants, mosquitoes, giant robots, an ocean liner or Danny Drum ruin their beautiful day?
Voice CastEdit
| | |
| --- | --- |
| Voice Actors: | Character(s): |
| Lloyd Floyd | Gary Guitar |
| Stephen Largay | Danny Drum |
| Becky Poole | Vera Violin |
Production notes / ChangesEdit
This entire animated short was animated by Bill Plympton at his home animation studio in New York.
This is the only Random! Cartoons short to not be animated at an exclusive animation studio and be solely animated by one animator, as this short was done by Plympton. As such, it's the only short with the credit "Animated by" replacing the "Animation Production Services" credit.
Twice in the short was when Gary was moving his lips, sounds of a guitar came out.
The movie Titanic is referenced when Vera Violin clashed two ice cubes together so the giant ship would turn left.